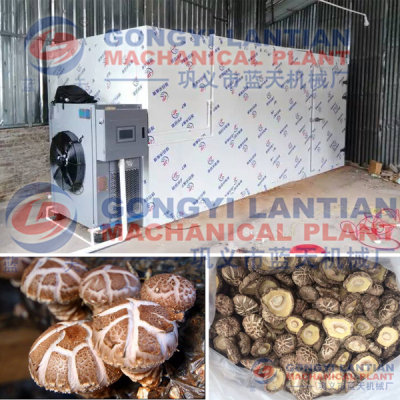 Mushroom, renowned in the world, is a rare edible fungus, and it is China export commodities. Mushroom contains unique fragrance, rich nutrition, tender succulent, which is one of the ingredients of Chinese and overseas famous dishes. Also, the modern medicine indicate that mushrooms can enhance physical fitness, soften blood vessels, lower cholesterol, anti-cancer effects, etc if long time eat them. So, mushrooms are very popular in the international market and become the world's second-biggest edible fungus. Therefore, mushrooms production and processing can bring huge economic benefits and social benefits, which has broad market prospects. The mushroom can be dried for easy storage, and for this drying process, mushroom dryer is very important, and it plays a key role for mushroom shape, color and lustre and fragrane.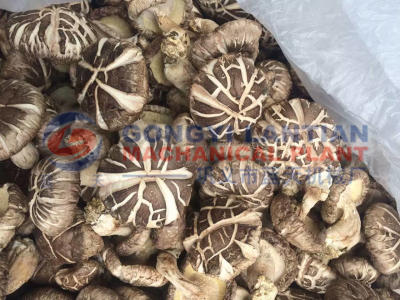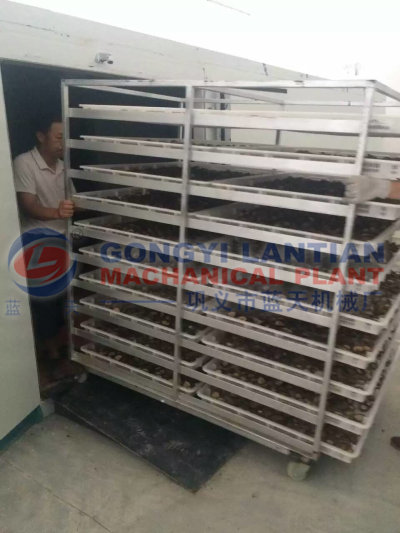 Introduction of Mushroom Dryer:
The Lantian brand mushroom dryer is a new type high efficiency and energy-saving dryer. Its working principle is using a small amount of electric energy, through the action of conpressor and evaporator, it will transfer the outside air to high temperature and high pressure air to dry the mushroom. Through this circulating work, the mushroom dryer can make the chamber temperature to 40-85℃. We design different scale of fig fruit dryers for customers option.
The Application Range of Mushroom Drying Machine:
The Lantian Brand mushroom drying machine is suitable for Chinese traditional medicine, tobacco, coal sludge, chemical products, agricultural and sidenline products, meat and other materials.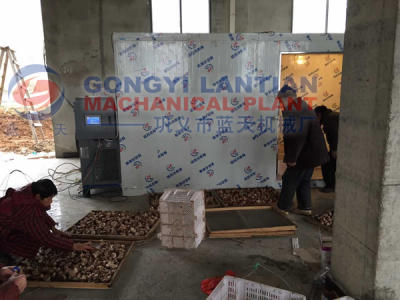 The Drying Technical Characteristics of Mushroom Dryer:
1. The mushrooms should be harvested in four or five mature, not should be over 80% mature. Classify the harvest mushrooms, and dry them under sunshine for 2-3 hours to remove their surface moisture. When putting the mushroom on the trays, the mushroom lip should be up, stipe down, put them well and don't overlap backlog, in case of making mushroom broken and effect the quality. The mushroom must be dried with 6 hours after harvest, if there is a cold storage condition, and saving time can be appropriately extended.
2. Control the drying temperature: after the chamber temperature reach 35℃, we can put the mushroom in for drying. When drying, must be lower temperature, and then gradually raise the temperature. Usually we need to raise 1-3℃ in an hour, and high temperature should be controlled between 70-75℃. Generally, under 35-40℃ need to dry 6 hours, under 40-60℃ need to dry 8-10 hours, and under 60℃ need to dry 2 hours. Mushroom moisture is higher, the drying time will be longer under the condition of low temperature. If the temeperature rise high at first, it will cause that tissue loss water fast, which will make the mushroom out of the shape, not round, crack, black color, destruction of enzyme activity, and good smell faded smell. The mushroom should be dried continuously until dry, non-stop heating, temperature shouldn't be high and low, otherwise it will make the mushroom color black, quality decline.
3. The controlling of humidity: in the pricess of drying mushroom, except controlling heating temperature, the controlling humidity is also a very important process. The basic rules of dehumidifying is: in the initial drying process, when the chamber temperature is 35-40℃, it should be full dehumidifying. When temperature rise to 40-60℃, it can be discontinuously dehumidifying. After the temperature reach 60℃, it can not dehumidify. If over dehumidifying, the mushroom color will turns to white. If the dried mushroom with the water of yellow, it means dehumidifying is not good, or the temperature is not enough. Especially, stop heat during drying will easily cause this phenomenon.
4. Drying quality respection: when drying 16-18 hours, we can open the drying chamber to inspect the dryness of mushroom. When inspection, use finger to press the junction of lid and stipe, if there is trace, it means the drying process is qualified. If it is soft, it means the mushroom need to go on being dried. The characteristics of qualified dried mushroom is: has special fragrance, yellow gills, upright gills, complete, non-fall, less than 30% moisture, original shape kept, round flat lid and natural color and luster.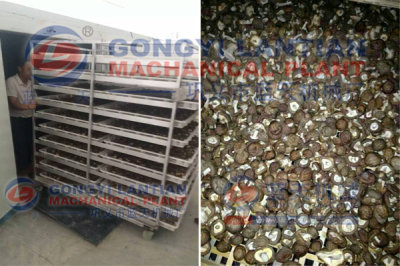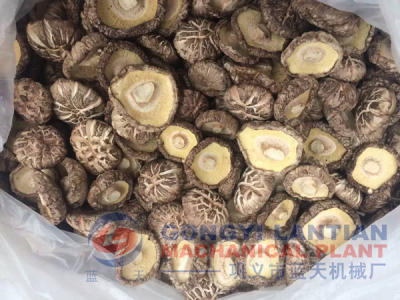 The features of mushroom drying machine:
1. High stability and safety. The mushroom drying machine is of precision design and control for pressure discharging, temperature discharging, overcurrent, overheating, overloading, etc., to make the dryer running stably and safely.
2. Timely heating and high heating ability. The mushroom drying equipment adopt high efficient heat tranferring way and direct heating way, and the temperature of heating device can reach up to 85 Celsius degree, then the dryer is of high heating ability and heating timely.
3. High automatic and intelligent. This mushroom drying machine adopts automatic temperature and humidity controlling system to make sure the dryer runing continuously for 24 hours per day.
4. Low consumption. Our this mushroom dryer just need consume a small amount of power to absorb a lot of heat source in the air, and its electric power consumption is only 30% of normal heater. And compared with coal, oil, gas drying machine, our this kind of dryer can save around 75% operation cost.
5. Going green and environmental protection. When drying, there is no waste gas, waste water or waste residue caused. And no pollution to the environment.
6. Good quality of dried product. Our mushroom drying machine is temperate drying machine, and its drying way is near to natural drying.
7. Convenient installation and small occupied area. The surface moiture evaporating speed and inner moisture migrating speed are near. Then the dried mushroom will be of good quality, good color and high grade.
8. Long lifttime and low maintain cost. Our this mushroom dryer machine is developed on the basis of traditional air-condition technology, so it has mature technology, stable performance, reliable and long lifetime.
9. Weather protected and wide range of application. Our this kind of mushroom dryer can be widely used for drying food, agricultural and sideline products, edible fungus, seafood, meat products, industrial products, chemical products, tobacco, leather goods, textiles, printing, petroleum products, grains, fruits and vegetables, medicinal heabs, metal products, etc.