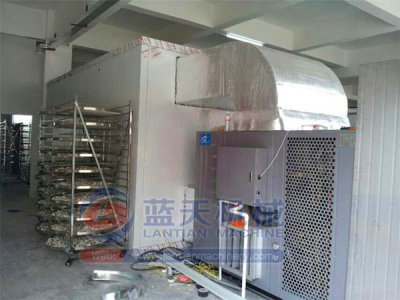 Introduction of cassava chips dryer:
The cassava chips dryer from Gongyi Lantian Machanical Plant is a kind of box dryer, which can be disassembly. It is using electric as power and through heater to heat. The large quantity of hot air circulate in the charmber to increase the inside temperature, and also send the moisture out. We produce different sized cassava chips drying machines, equipped with low noise, high temperature resistance fan and automatic temperature controlling system. The entire circulatory system is closed and make the drying efficiency improved from 3-7% to 35-40%, and the highest thermal efficiency can reach 70%.
The model selection of cassava chips drying equipment:
1. 3P cassave dryer can adapt about 15 CBM chamber, and it will consume 3 degree electric power per hour.
2. 6P cassava dryer machine can adapt 25 CBM drying chamber, and it will consume 6 degrees electric power per hour.
3. 10P cassava drying machine can adapt 40 CBM drying chamber, and it will consume 12 degrees electric power per hour.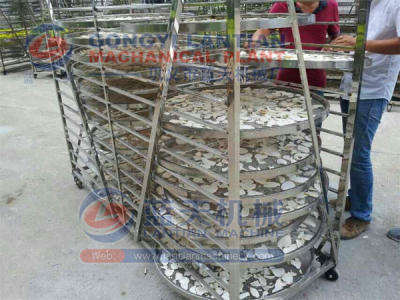 The features of cassava chips drying equipment:
1. High stability and safety. The cassava chips dryer of Gongyi Lantian Machanical Plant is of precision design and control for pressure discharging, temperature discharging, overcurrent, overheating, overloading, etc., to make the dryer running stably and safely.
2. Timely heating and high heating ability. The cassava chips drying machine adopt high efficient heat tranferring way and direct heating way, and the temperature of heating device can reach up to 85 Celsius degree, then the dryer is of high heating ability and heating timely.
3. High automatic and intelligent. This cassava chips drying machine adopts automatic temperature and humidity controlling system to make sure the dryer runing continuously for 24 hours per day.
4. Low consumption. Our this cassava chips dryer just need consume a small amount of power to absorb a lot of heat source in the air, and its electric power consumption is only 30% of normal heater. And compared with coal, oil, gas drying machine, our this kind of dryer can save around 75% operation cost.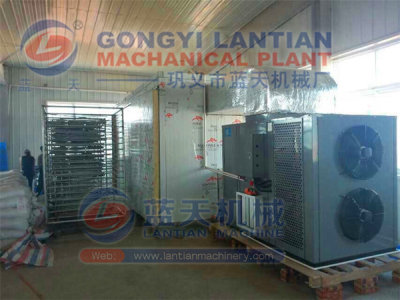 The system composition of cassava chips drying machine:
1. Main device (heating system): use less electrical energy to absorb the heat from the air for drying cassava chips or cassava slices.
2. Drying chamber: it is used for loading materials and for keeping temperature and avoiding heat losses.
3. Wind/air circulation system: to take the heat to full of the drying chamber and improve the temperature, and to take away the water evaporated from cassava.
4. Dehumidifying system: drain out the water in the chamber to achieve the purpose of drying.
5. Waste heat recovery system: the cassava slice drying equipment has three waste heat recovery systems, which greatly lower the loss of heat.
6. Drainage system: discharge the condensate water to outside to avoid the increasing humidity of the chamber.
7. Programmable intelligent control system: automatically adjust temperature, humidity, drying temperature, and intelligent operation according to the most appropriate drying process curve.
8. Warning system: to set warning parameters based on time, temperature, humidity, etc. according to users requirements.
The after-sale service of cassava chips drying equipment:
1. Guarantee period is one year, and within the guarantee time, no matter which parts are broken, we will provide the new parts with free.
2. If the cassave chips drying equipment is over the guarantee period, but need change the broken parts, we just charge the cost of parts.
3. Customize and design, long service, for door installation and adjustment, and maintenance for whole lifetime.